If Holly's Bed & Biscuit Inn were for people, it would be a five-star resort! We're like the Ritz for dogs!
All of our guests receive daily attention and generous amounts of tender loving care. We offer three types of suites: Our Kennel Suite, which is a large indoor/outdoor style suite where your dog has a covered outdoor porch with plenty of room to run and play. Our Comfort Suite, which is an upgrade from our kennel suites. They have glass doors that are sound-reducing, their own heat and air unit, and padded floors. And our VIP Suite is for our smaller dogs!
Prices
Individual Suites - $27.50 per day - $20 each additional dog
Comfort Suites - $37.50 per day - $25 each additional dog
VIP – $32.50 per day/ per dog (discounted bath and nails is available for $15)
Office – $37.50 per day/ per dog (medicine included, discounted bath and nails is available for $15)
Day Care: $25 per day
This service includes the activity package and a day of boarding (NO nights). Not available on Wednesdays, Saturdays, Sundays, or holidays. Wednesday hours are now 8am-12pm or by appointment until 5pm for arrivals and departures. Drop-off and pick-up hours on Mondays, Tuesdays, Thursdays, and Fridays are between 8:00 am and 6:00 pm.
Activity Package: $10 per session
Your pet will have a 30 minute play time in our doggie play park with one of our staff members. (examples: one session per day, one session every other day, or 2-3 sessions per day)
Medication: If you need us to administer your dog medication, the charge is $5 per day.
** We charge per DAY, as we have no check-in or check-out time**
If you pick up before 9:30 am (Mon-Sat) there is no charge for that day.
**If your dog is scheduled for a grooming service on the day of check out, picking up before 9:30 am does not apply, you will be contacted when services are completed.**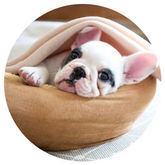 Overnight Boarding
Overnight, dogs sleep in individual, comfortable luxury suites in which they have quiet, personal space after a full day of play.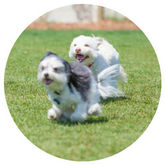 Pet Daycare
Your pet will have the freedom to frolic in a spacious indoor and outdoor play area. Separate play areas for large dogs, and small dogs.
Come visit our Boarding Facility and Specialty Boutique. Specializing in quality pet care.